Chili
Ohhh yummy in my tummy!
I am a huge fan of chili, but until today, I have never made it myself.  I bought myself a spice rack and finally decided to make it.  Unfortunately, my spice rack didn't have anything I needed, so I needed to buy more spices anyway!  Go figure.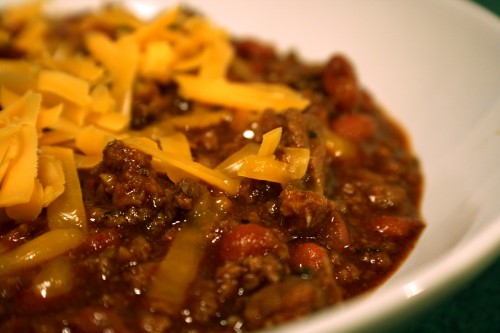 I used the recipe found
here
, but I did make a few changes and additions that are pretty noteworthy.
1) I added 4 tbsp of brown sugar
2) Instead of 1 tsp of hot sauce, I used 3 tbsp (I like it spicy!)
3) I eliminated the pork and used 2.5 lbs of beef, plus a 1 lb 13 oz can of chili beans (I added this 1.5 hours into the simmer)
4) I couldn't find any ground coriander, but my spice rack had whole coriander, so I ground them myself (I think it worked?)
5) For the beer, I used Yuengling
Top it with some shredded cheddar cheese, and it makes a delicious dinner!  I loved the chili- it really is very tasty!!  It makes a lot, so be sure to share, or enjoy it over the next few weeks by freezing it.